We have been working at a furious pace over the past few weeks here at Notifier in order to get out more new great features that you all can leverage.
Let's go over with some of those features that we have just launched and then we will also cover some features that we have coming in the next few weeks as well as our road map for what's coming after that:
New Features List:
Notifier.so Rebrand (emails will still be sent from notifierforreddit.com temporarily).
You can test your searchers by inserting a Test Object
Chat for support on any page
Trending Stock Symbols on Reddit
More Reddit Stats functionality
Dark Mode for front facing pages (dark mode is so hot right now)
Now let's go through these new features more in depth.
Inserting a Test Object
So you can now insert test objects in order to test your searchers to make sure that they're working as you've expected. To do that, you can simply go to the Searchers section and click on Test Searcher.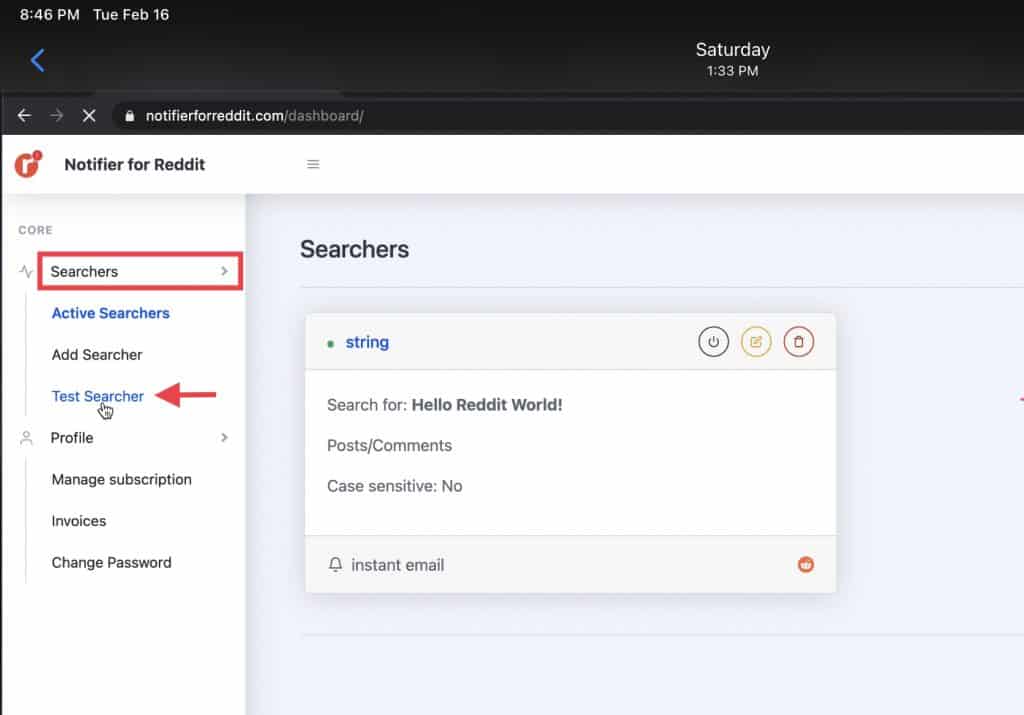 From there, you can select what platform or what source this object is going to be mimick from. Right now, it only supports Reddit but in the next few weeks, we're going to support Hacker News and Lobste.rs as well. You simply choose the platform, the type of the object that you want to insert and then put in the text, title, subreddit or author user name.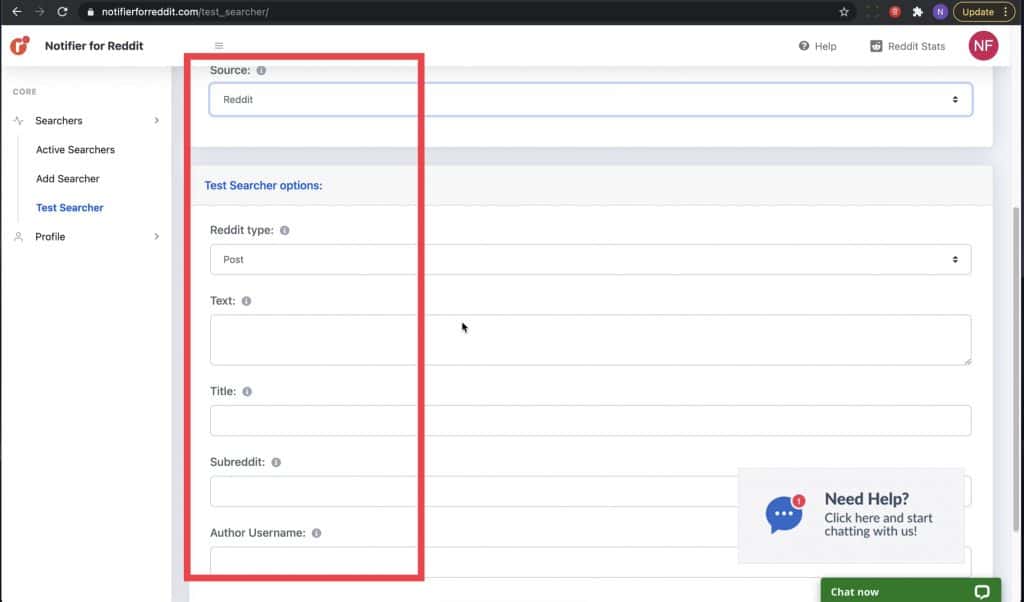 We added this functionality because a lot of people were having trouble setting their Searchers up and not been completely sure if everything was set up as expected. Now one thing to keep in mind here is that if you ever have any questions about your Searcher is set up and if it's properly set up, then feel free to reach out to us and an actual human can analyze your Searcher and get back to you.
Chat
Now related to that, we have actually also added support for chat now into our application. So from any page inside Notifier for Reddit, you can click Chat Now and a member of our support team will instantly assist and get back to you.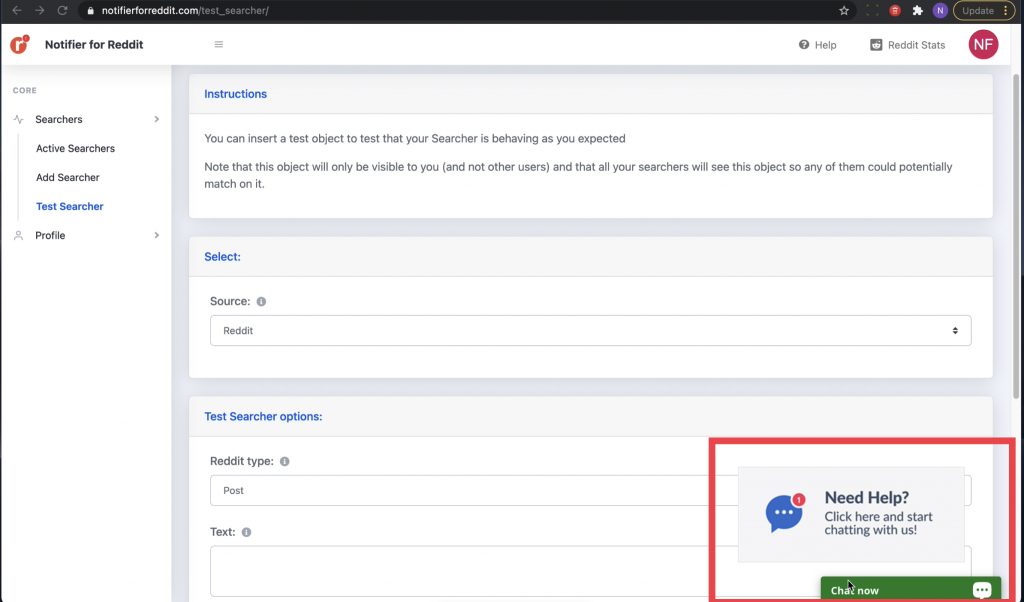 Another very cool feature we've added recently is our Trending Stocks tool. Our Trending Stocks tools is a prototype we built that analysis the mentions of different stocks on the wallstreetbets subreddit. Keep in mind that this is a prototype and we're going to be adding new features to this and even some special features for users of our paid plan where they can go and get additional analysis of the stocks, view the most recent actual comments and post about them and kind of track and understand why these stocks are being mentioned on wallstreetbets. We may also add some additional subreddits to this. Right now, we're just tracking wallstreetbets but based on your feedback, we may add additional other subreddits to it.
To get the trending stocks page, you just need to go to this URL: https://notifier.so/trending_stocks/ or you can go to our main page and then under Resources, click on Trending Stocks.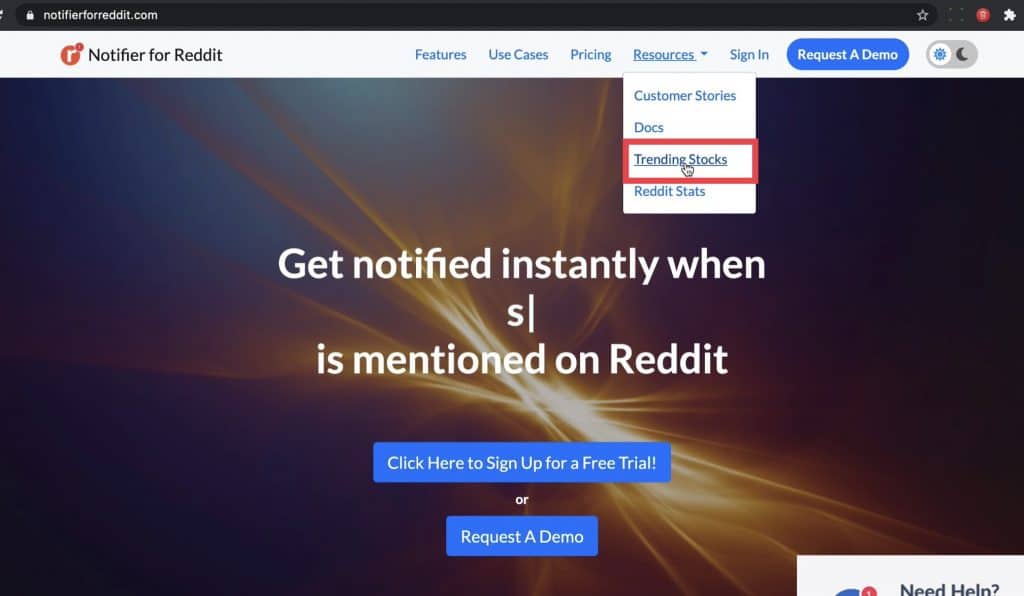 Reddit Stats Updates
Another cool thing that we've updated is our Reddit Stats pages. We have added additional information to the Reddit Stats page including basic information about the subreddit, some recent popular post from each subreddit as well as links to other top subreddits that people may be interested in taking a look at.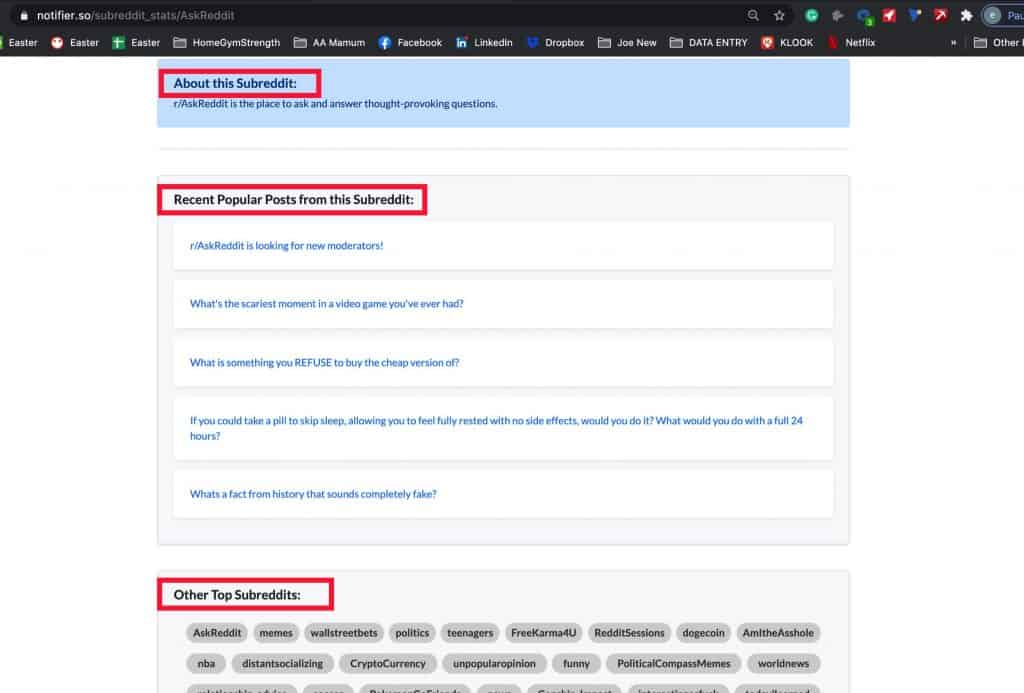 Dark Mode for some pages
We have also a Dark Mode to many of the main pages in Notifier. We will soon be adding this to the dashboard based on user feedback and if that's something they are interested in. But that's a fun new feature and you can toggle that on and off by clicking the icon on the top right corner of the page.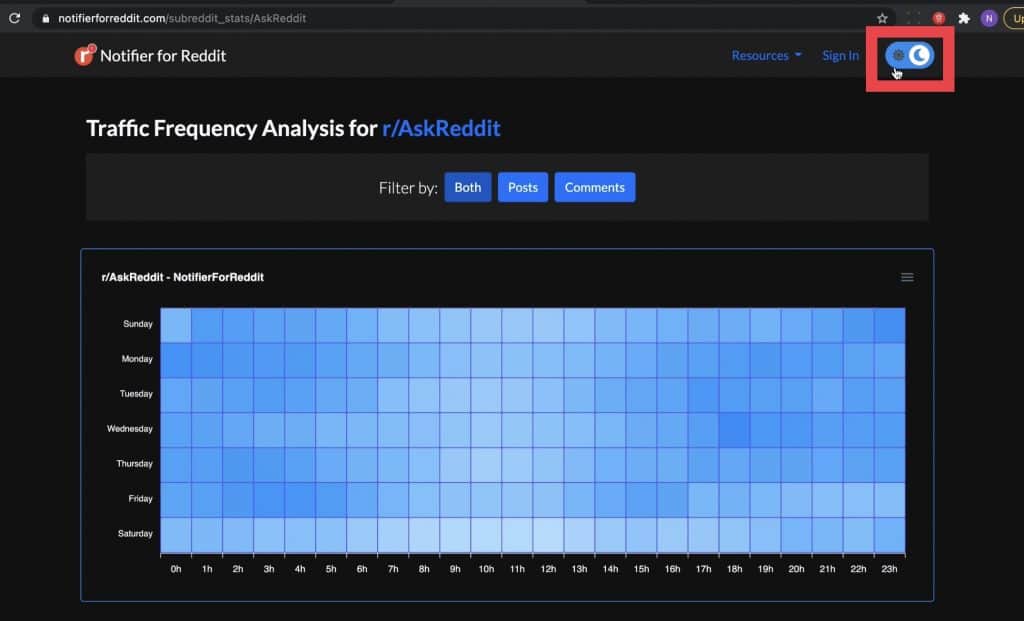 Product Roadmap:
Now, what do we have coming next? Most likely later this week, we are going to be adding support for Hacker News and thereafter, Lobste.rs.
Hacker News
If you're not familiar with Hacker News, it's a great developer-focused form for posting various articles that people find across the internet and other content. And the real kind of value is in a lot of comments that are mentioned on there so it's a fantastic form that we think can be very valuable for monitoring, for mentions of your products and chiming in and helping people find your product.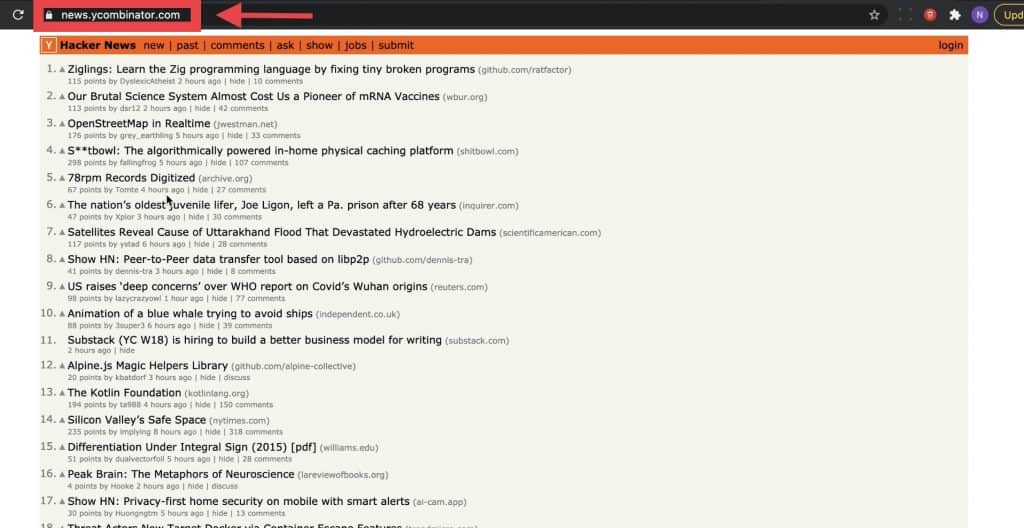 Relatively, there's also Lobste.rs. Lobste.rs is actually very much like Hacker News. It's another form type site for sharing content where a lot of people find a lot of value in the comments of it. So we'll be adding support for it around the same time.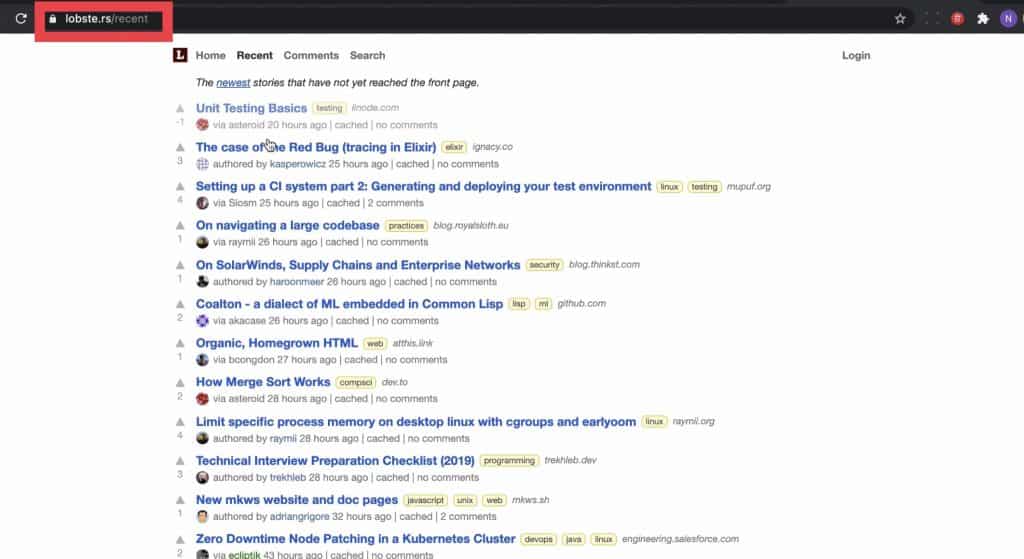 Much More
Now in the future, we're going to be adding more social listening support for other platforms. We're looking at
Twitter
RSS feeds
Search Engines
Custom (you give us a website you want us to monitor we monitor for keywords and price out the cost based on the number of pages and how often you want it checked)
Website Monitoring
But we've also been listening to feedback and we're also going to be adding support for Website Monitoring. So the idea there is that you could type in a URL that you want to monitor and make sure that it's returning a response possibly even the type of response that you want to return and then Notifier will actually notify you if that website ever goes down or doesn't receive a response that you told it to expect. So we're very excited about that.
Backlink Monitoring
Some other things we are going to be adding is Backlink Monitoring. The idea here is that perhaps you worked hard to partner with other sites and you want to know what are the statuses of those backlinks and the tool will let you know if there are any changes to any of the backlinks that you told it to monitor even if it turns from do-follow backlinks or no-follow backlinks or some other type of status but that another great feature that we're going to be working on.
Page Change Monitoring
Moreover, we're also going to be working on in the future Page Change Monitoring and the idea there is you can insert any URL and Notifier will tell you when there's been a change to that page at that URL.
What events would you like to get Notified About?
And finally, we would like you all to let us know what events anywhere on the internet, any kind of concept you have of that, what events would you like to get notified about that Notifier can help with. So if you have an idea or something you would like monitored and get notifications on, just let us know and we can definitely add that feature.
Looking to try out Notifier or find out more information? Check out our short demo and then click on one of the buttons below: